So you're interested in having an aerial photograph made of your project. Well you've definitely come to the right place! We've been providing professional aerial photography services in Houston and throughout Texas since 2003. We aren't just a Texas aerial photography company, we've photographed and managed aerial photography projects throughout the United States. We prefer to fly every project ourselves because we know how hard it is to find a reliable aerial photographer these days, but occasionally we find someone that fits our mold and we hire them to photograph the project for us. We monitor and track every photo mission that we subcontract and do the photo editing ourselves. For the management and editing, we charge an additional fee, which still makes us competitive in the market and relieves our clients of the many headaches associated with managing aerial photography missions out of state.
Aerial Photography Project Details
We'll need some important information from you before we can shoot aerial photos of your project. The first is the location. What is the address? How many acres? We prefer a map with the area you'd like photographed outlined, but if that is not possible, a textual description will suffice. We'll be sure to make a map for you to verify before we fly your project. It's much easier to locate a project from the comfort of our office chair as opposed to 1,500 feet in the air traveling at 100mph. 🙂
Now that we know where your project is located, we'll need to know a few more details.
Vertical vs Oblique Aerial Photos
There are two styles of aerial photographs: Vertical and Oblique.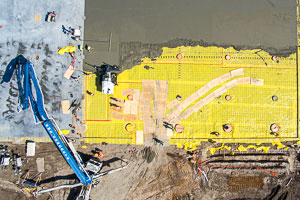 Vertical aerial photos are shot directly above the project and give you a "bird's eye view" of the location.  Similar to satellite imagery, but recent, and provide you with much better detail of your project.  We can shoot vertical aerial photos from a plane or drone.  The drone allows us to take overlapping vertical imagery and create a stitched image that provides amazing detail.  We can even overlay the imagery over a digital elevation model (DEM)to create an orthophoto.  This drone technology is absolutely amazing! 
Oblique aerial photos come in two varieties: high oblique and low oblique.
High oblique aerial photos show the project area with the horizon and a portion of the sky.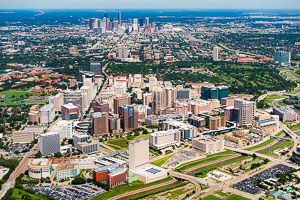 Low oblique aerial photos show just the project area without the horizon or sky in the photograph.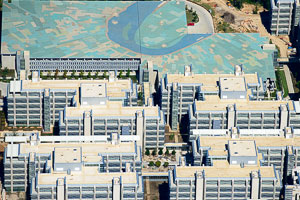 Of course, we can shoot both vertical and oblique aerial photos for your project. We just need to know this information when estimating the cost of the project as it affects both the altitude we fly and flight time.
Purpose of the Aerial Photography Project
Next on the list is the purpose of the aerial photos. Are you using the imagery for marketing and advertising, informational only (for example to monitor construction progress), or are you intending on using it as artwork for your wall? This information allows us to determine the proper camera to use, weather required, and time of day to photograph your project.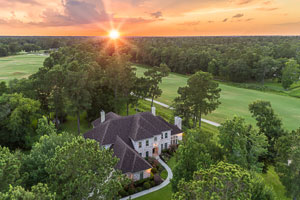 Timing for your Project
The final piece of the puzzle is your timeline. What is the deadline for your aerial photography project? The longer lead time you give us the better, as we can pair your project with others to reduce flight time cost and pick the optimal weather day but we understand sometimes that is not an option.
To make things easy, fill in the details on our aerial photography quote request page and we'll get an estimate to you as soon as possible!